The design competition features sculptures made from canned foods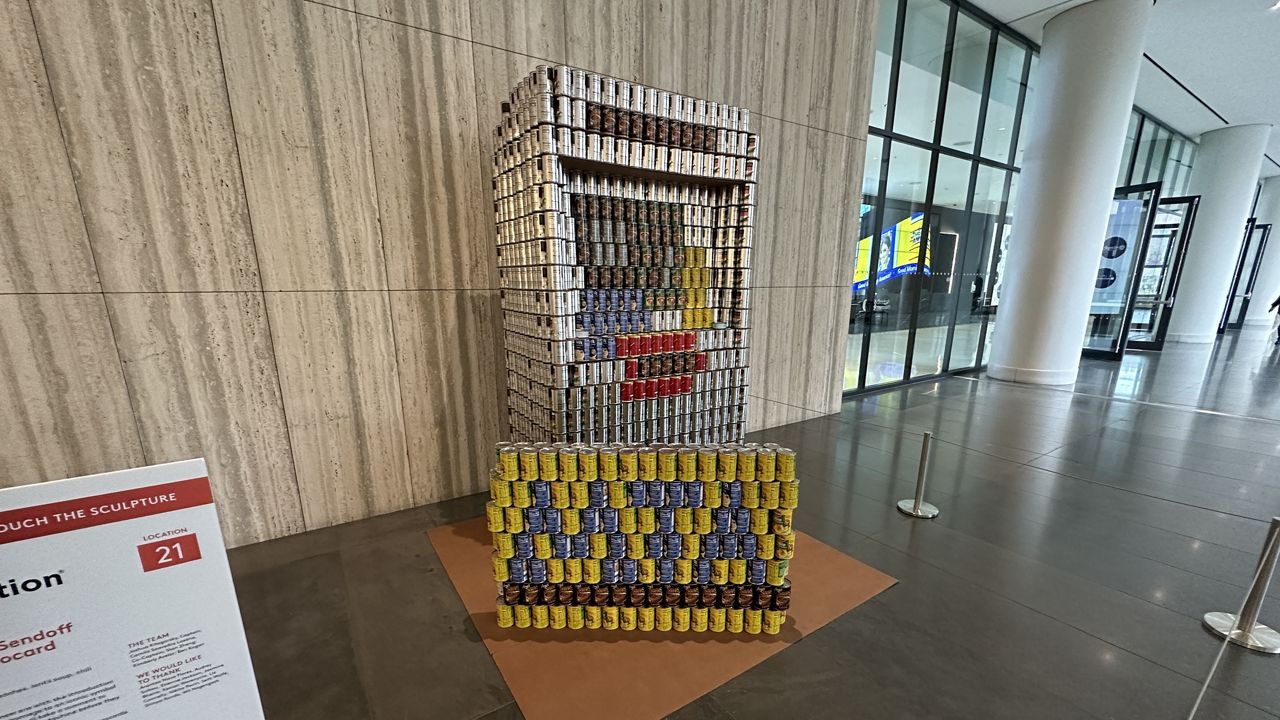 Giant chess game? Take a closer look. It is a sculpture made from more than 3,100 cans of tuna and mixed vegetables. The design competition called "Construction New York" can only be held at Brookfield Place in Battery Park City.
So how can teams of architects and engineers achieve this? There are rules.
---
What you need to know
"Canstruction" is a design competition where architects and engineers build sculptures using food cans
28 "Canstruction" sculptures are on display at Brookfield Place in Battery Park City through November 13
All food boxes are donated to City Harvest to help feed the hungry in the five boroughs
The contest has donated more than 2 million pounds of food to local food banks since 1993, and more than 1.2 million pounds to City Harvest since 2006.
---
"You can use clear tape. You can use leveling boards. You can use rods to hold things together. It's better that you don't see it," said Jennifer Green, a member of the contest's founding committee. "It's supposed to be like a floating structure."
The competition was founded by the late Sheri Melillo and his colleagues from the New York chapter of the Design Management Association. The first competition featured eight sculptures, Green says. This year, there are 28 – eight more than last year's competition.
"We are all in architecture and engineering, and this was a way for our companies to form a (construction) team and give back to New York City," Green said.
There's a lot of New York represented in the sculptures, including a dove, a subway, a "cool" farewell to the MetroCard and a tribute to 50 years of hip-hop.
Not to mention Mario, the spotted "fly" – get it? – "Winnie the Cane" and some cute giraffes. It's the 16th year for "Canstruction" at Brookfield Place, in what has become an annual tradition at the downtown shopping, dining and culture destination.
"We certainly have a full arts and culture calendar here at Brookfield Place, but Canstruction is one of this year's highlights," said Elissa Marden, senior vice president of arts and events at Brookfield Properties.
When it's time to remove the sculptures on November 13, all of the cans will be donated to City Harvest to help feed the hungry. Canstruction has donated over 2 million pounds of food since this all started.
Admission is free, but visitors are asked to bring their own food cans and drop them into the collection box to add to the number of cans. Visitors can also help choose the People's Choice Award winner. Vote online here.
(Tags for translation)APP Human Interest