The design and plans for stations along the route are revealed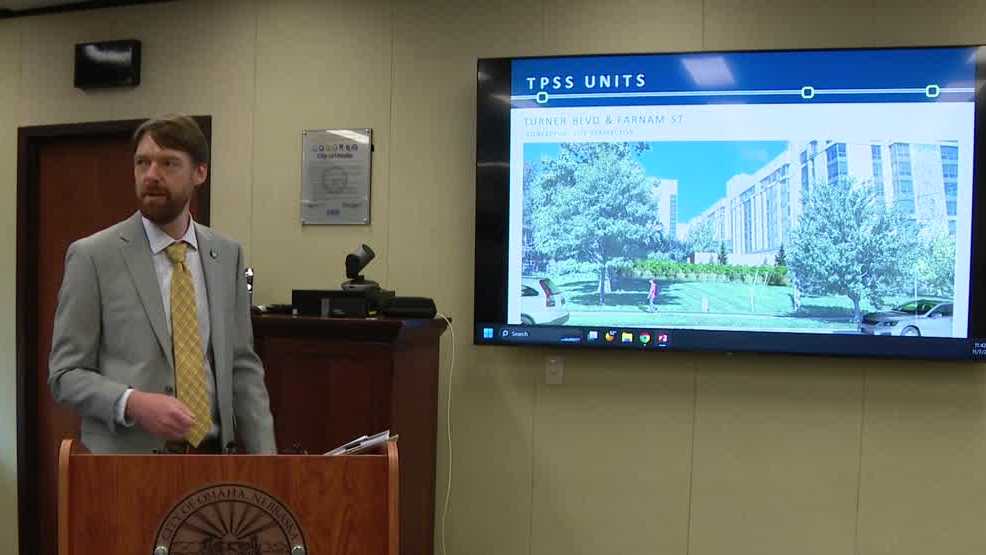 The first phase of the Omaha streetcar design has been completed and includes plans for stops at the 16 stops along the route, as well as changes to the track to allow for future expansion. The designs will be reviewed by the Urban Design Review Board this month, as required by city code. The city's Planning Department reviewed 30% of the designs and recommended their approval. The plans include conceptual designs for stations in the 16 stations. Thirteen of the stations will be at the sidewalk along Farnham Street, Harney Street, Capitol Avenue and Eighth Street, and there will be three in the middle on Farnham Street between Midtown Crossing and the Blackstone District. The city said the intermediate stops will "create a safer pedestrian crossing and slow traffic in the busy corridor." In November, "Future Boarding Area" signs will be installed along the route, with QR codes for people to learn more about the areas. The trams plan to be in service by 2027. Tram stop locations 39, Farnham (Western station) 37, Farnham (Central station) 34, Farnham (Central station) Turner and Farnham (Central station) 26th Street (Farnham and Harney side stations) 24th Street (side stations) At Farnham and Harney) 19th Street (side stops at Farnham and Harney) 14th Street (side stops at Farnham and Harney) 10th Street (side stops at Farnham and Harney) 10th Street and Capitol (side stop) 8th and Douglas (side stop) Side stops allow people to board To the east and west. During this design phase, it was recommended that the route be changed to end at 39th Street, Farnham Street, 10th Street and Capitol Avenue, according to the city. "The changes will allow the University of Nebraska Medical Center to complete an evaluation of the streetcar extension across campus and potentially to the new Saddle Creek campus. Stopping at 10th and Capitol Streets, instead of 10th and Cass, provides options for future expansion," the city said. The changes are pending approval by the Omaha Streetcar Authority. The city of Omaha has also applied for a $300,000 federal grant through the U.S. Department of Transportation to study expansion in North Omaha. The city said there will be a 50 percent match through funding and in-kind support. Omaha Mayor Jan Stothert said HDR is now working on a phase The design is 60% off. The Omaha Streetcar Authority plans to buy six cars, according to the city. Bids will open Jan. 24, and the automaker is expected to be selected in February. "The route," the city said. Get the latest headlines from KETV NewsWatch 7
OMAHA, Neb. —
The first phase of the Omaha streetcar design has been completed and includes plans for stops at the 16 stops along the route, as well as changes to the track to allow for future expansion.
The designs will be reviewed by the Urban Design Review Board this month, as required by city code. The city's Planning Department reviewed the designs by 30% and recommended their approval.
The plans include conceptual designs for the 16 stations. Thirteen of the stations will be at the curb along Farnham Street, Harney Street, Capitol Street and Eighth Street, and there will be three in the middle on Farnham Street between Midtown Crossing and the Blackstone District.
The city said the intermediate stops "will create a safer crossing for pedestrians and will slow traffic in the busy corridor."
In November, "Future Boarding Zone" signs will be installed along the route, with QR codes so people can learn more about the zones. The trams are scheduled to enter service by 2027.
Tram stop locations
39 and Farnham (Western Station)
37th Street and Farnham (Central Station)
34th and Farnham (Central Station)
Turner and Farnham (Central Station)
26th Street (Farnham and Harney Bypass)
24th Street (side stops on Farnham and Harney)
19th Street (side stops on Farnham and Harney)
14th Street (side stops on Farnham and Harney)
10th Street (side stops at Farnham and Harney)
10th and Capitol (side station)
8th and Douglas (side stop)
Side stations allow people to board to the east and west.
During this design phase, it was recommended that the route be changed to end at 39th Street, Farnham Street, 10th Street and Capitol Avenue, according to the city.
"The changes will allow the University of Nebraska Medical Center to complete an evaluation of the streetcar extension across campus and potentially to the new Saddle Creek campus. Stopping at 10th and Capitol Streets, instead of 10th and Cass, provides options for future expansion," the city said.
The changes are pending approval by the Omaha Streetcar Authority.
The city of Omaha has also applied for a $300,000 federal grant through the U.S. Department of Transportation to study expansion in North Omaha. The city said there will be 50% funding and in-kind support.
Omaha Mayor Jean Stothert said the HDR is now 60% through the design phase.
The Omaha Streetcar Authority plans to buy six cars, according to the city. Bids will open on January 24, and the automaker is expected to be selected in February.
"Highlights include the length, width and capacity of cars, ADA-required boarding, and off-wire capacity for up to 40% of the route," the city said.
Get the latest headlines from KETV NewsWatch 7
(tags for translation) Blackstone District