The 10 most beautiful beach hotels in Miami that you should book this winter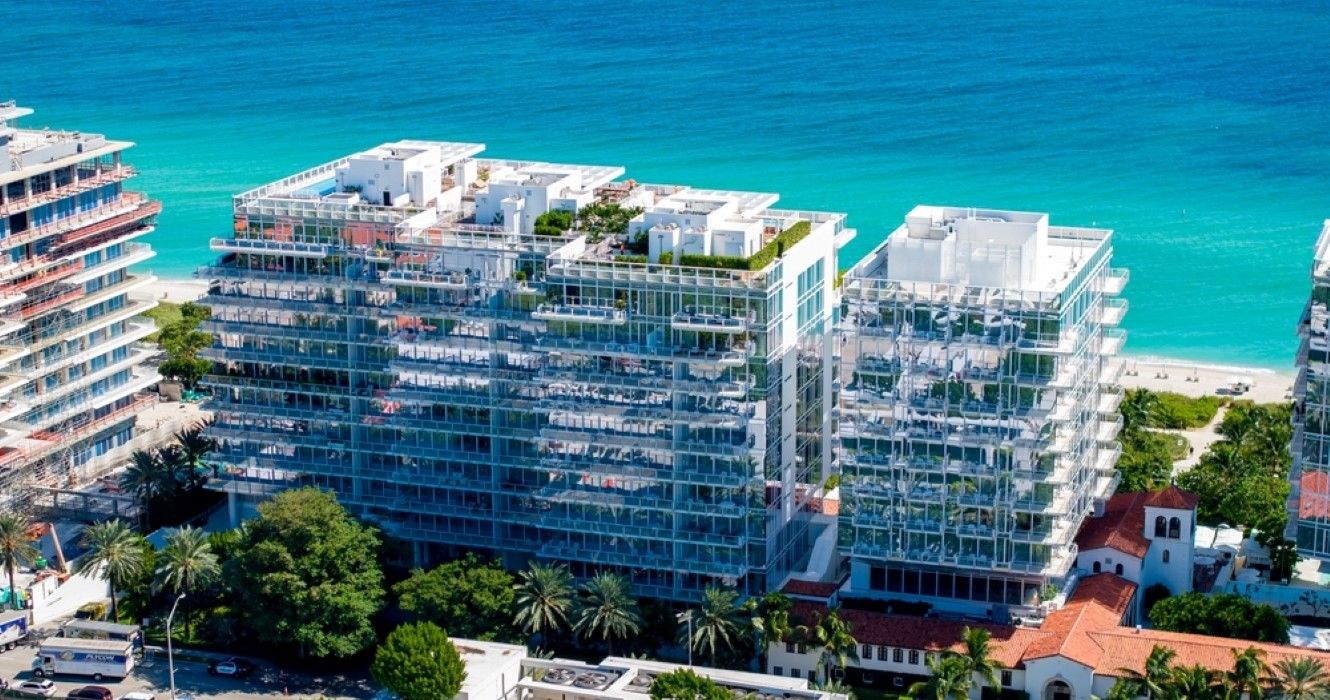 summary
Enjoy a luxurious stay at The Setai, Miami Beach, with adrenaline-pumping water sports and a unique Art Basel experience.

Keep it simple at The Palms Hotel & Spa, where modern design and a tropical garden theme offer stunning ocean views.

Find an eco-friendly hotel at The Betsy – South Beach, a historic hotel with direct ocean access and rental options for beach activities.
Winter is on the horizon, and for some, that means dusting off their ski gear and booking one of the best mountain resorts in the United States for the winter. For others, the looming snow means it's time to flee to warmer weather, as far away from the White Peaks as possible.
Fortunately, sunny Miami promises blue skies and mild conditions year-round. With highly rated hotels along the beachfront, Miami is the perfect place to avoid the winter doldrums.
The following hotels are some of the best-rated stays along Miami Beach. These luxury stops range in price from $100 to over $1,000 per night, ensuring that every budget can enjoy some time in the winter sun.
The following hotels and resorts in Miami were selected based on their location somewhere along Miami Beach, high traveler reviews and beautiful designs and amenities. They represent a variety of price ranges (which can fluctuate dramatically based on demand) and locations along Miami's warm beaches.
Related: Miami's Hidden Beach Gems: Adventure to explore the top 10 secret beaches and local hangouts
Experience Art Basel with upscale amenities
Outdoor swimming pools at The Setai, Miami Beach, Florida, USA
With on-site water sports facilities and a spa and wellness centre, The Setai on Miami Beach is the perfect resort for those who want an adrenaline rush and those who want to relax. One of Miami's most luxurious resorts (which also offers a unique artistic experience), The Setai is consistently ranked among travelers' best hotel experiences.
Surrounded by white-sand beaches, Setai Hotel is as far away from the snowy mountains as possible. The children's play area and outdoor pool also help ensure even the most active guests can work out. As one of the best cities in the United States to visit without a car, the Bass Museum of Art, Miami City Ballet, and the Miami Beach Convention Center are less than 10 minutes' walk away.
Modern design and tropical gardens
Blue water and white sand beach with high-rise buildings on Miami Beach, Florida, USA
When it comes to owning oceanfront property, there's no reason to add a lot of fluff. Palms Hotel & Spa knows that the Atlantic Ocean is the best decor and directs everything towards that view. The tropical garden-themed outdoor pool faces the ocean, as do many of the hotel rooms.
In addition to beachfront amenities such as deck chairs and towels, guests can also enjoy a walk through the hotel's gardens, a drink at the Poolside Bar, and dining at the sustainably sourced Essensia Restaurant.
Historic style and sustainable travel ownership
The Betsy on South Beach, Miami, Florida, USA
Located on South Beach, The Betsy combines beachfront comfort with colonial design that feels clean and historic. The Betsy Hotel is independently owned but has plenty of amenities to compete with its chain hotel neighbors.
Guests at The Betsy will enjoy direct ocean access, with stunning views from the outdoor pool and ocean-facing rooms. The hotel also makes it easy to enjoy the many beach activities nearby, with rental options for snorkeling, windsurfing and cycling. Additionally, The Betsy is a sustainable travel hotel with measures in place to ensure an eco-friendly stay on the beach.
Recently renovated and close to attractions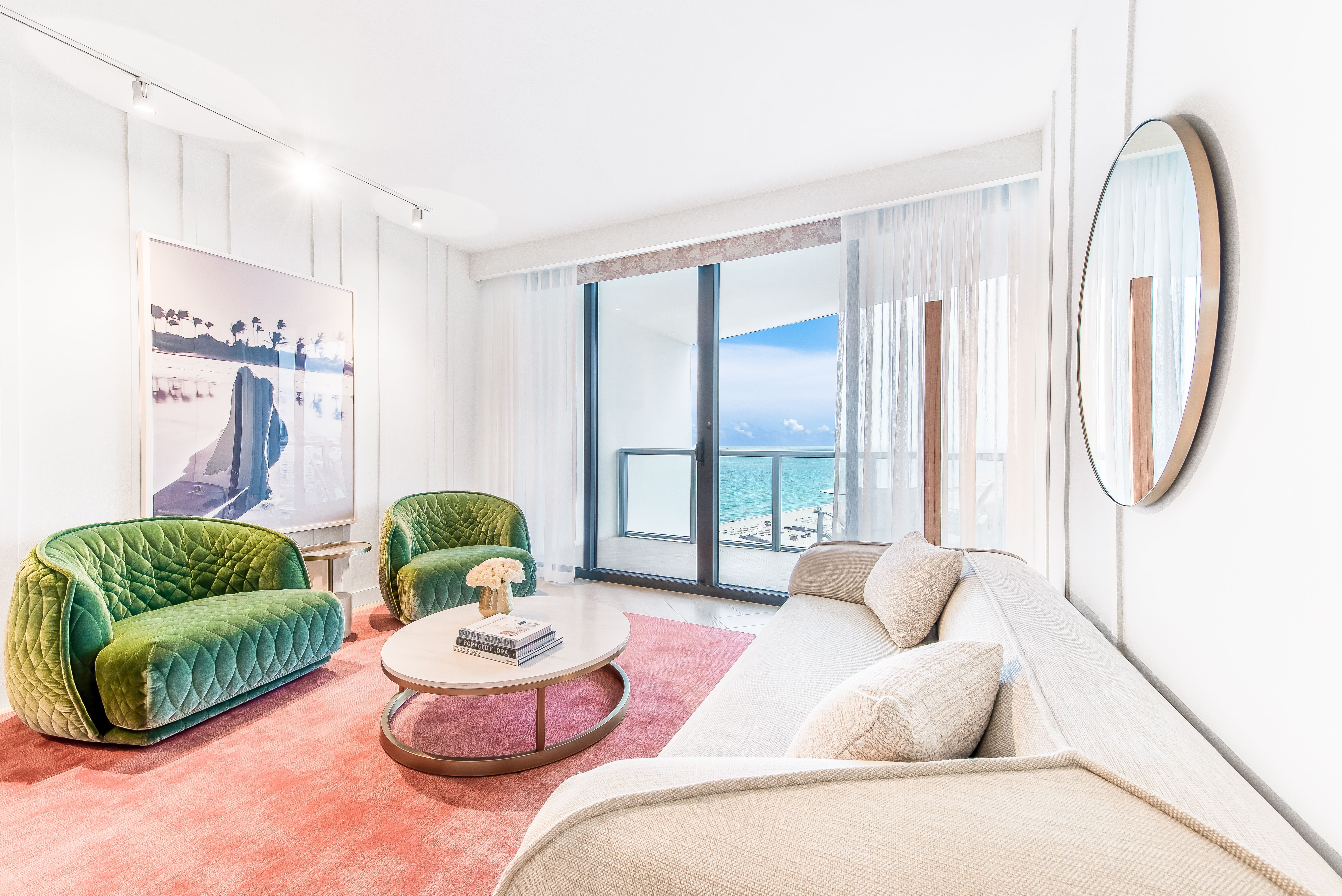 A dreamy W South Beach guest room with a beachfront view
One of the best beach hotels in Miami, especially for winter visitors, is the recently renovated W South Beach. With $30 million worth of guest room upgrades, this beachfront hotel aims to match the luxury of nearby art galleries and museums.
With its spacious oceanfront rooms and direct access to the walkways, W South Beach makes it easy to access some of the best things to do in Miami in the winter. For those more interested in staying in their home away from home, the on-site restaurant and fitness center ensure no amenities are too far away.
Equipment rentals on site and nearby museums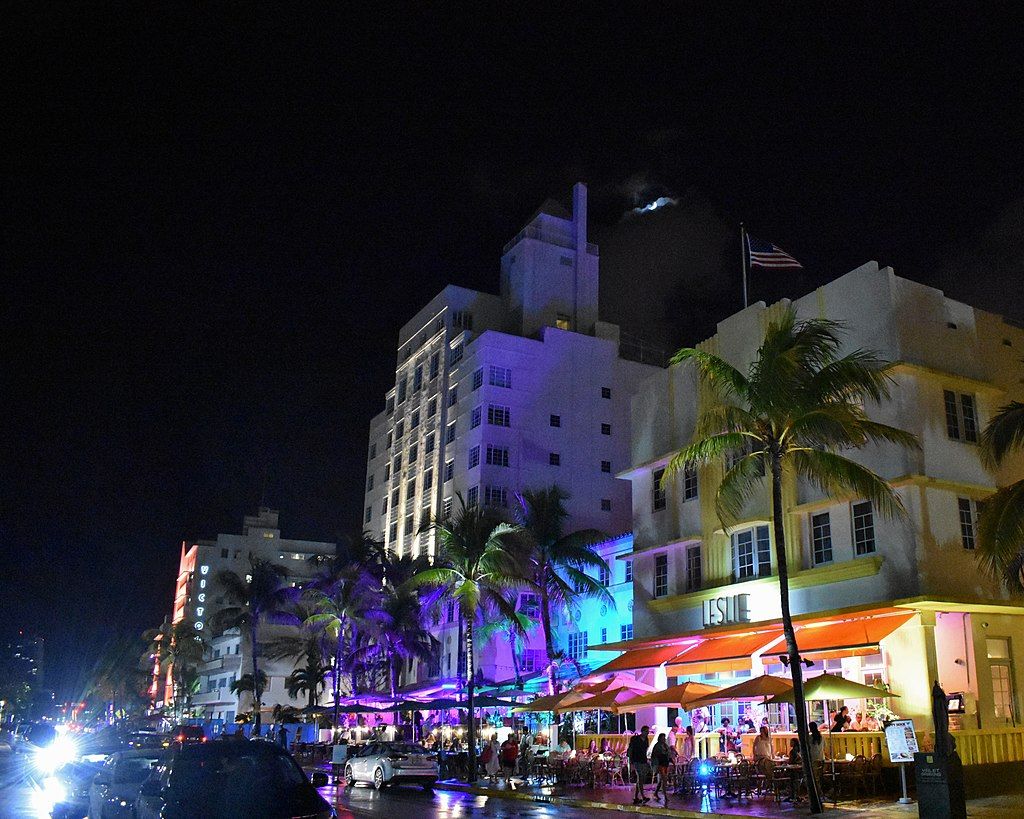 The Leslie Hotel and Ocean Drive at night in Miami Beach, Florida
Located along South Beach, The Leslie Hotel on Ocean Drive is a four-star resort with an Art Deco style that matches the fun, vibrant feel of a sunny beach.
In fact, the beach is at the center of everything at The Leslie, with access to equipment for activities such as fishing, cycling, snorkeling and golf. Meanwhile, the on-site fitness center ensures any extra energy is burned off quickly.
While the seaside may offer plenty of activities to fill an entire holiday, other nearby attractions such as the Art Deco Museum and Lummus Park are less than a five-minute walk away.
Related: Miami's coastal art scene: A creative tour to capture the best of its beaches, street art, and Art Deco architecture
Kid-friendly buffet and outdoor ocean-facing pool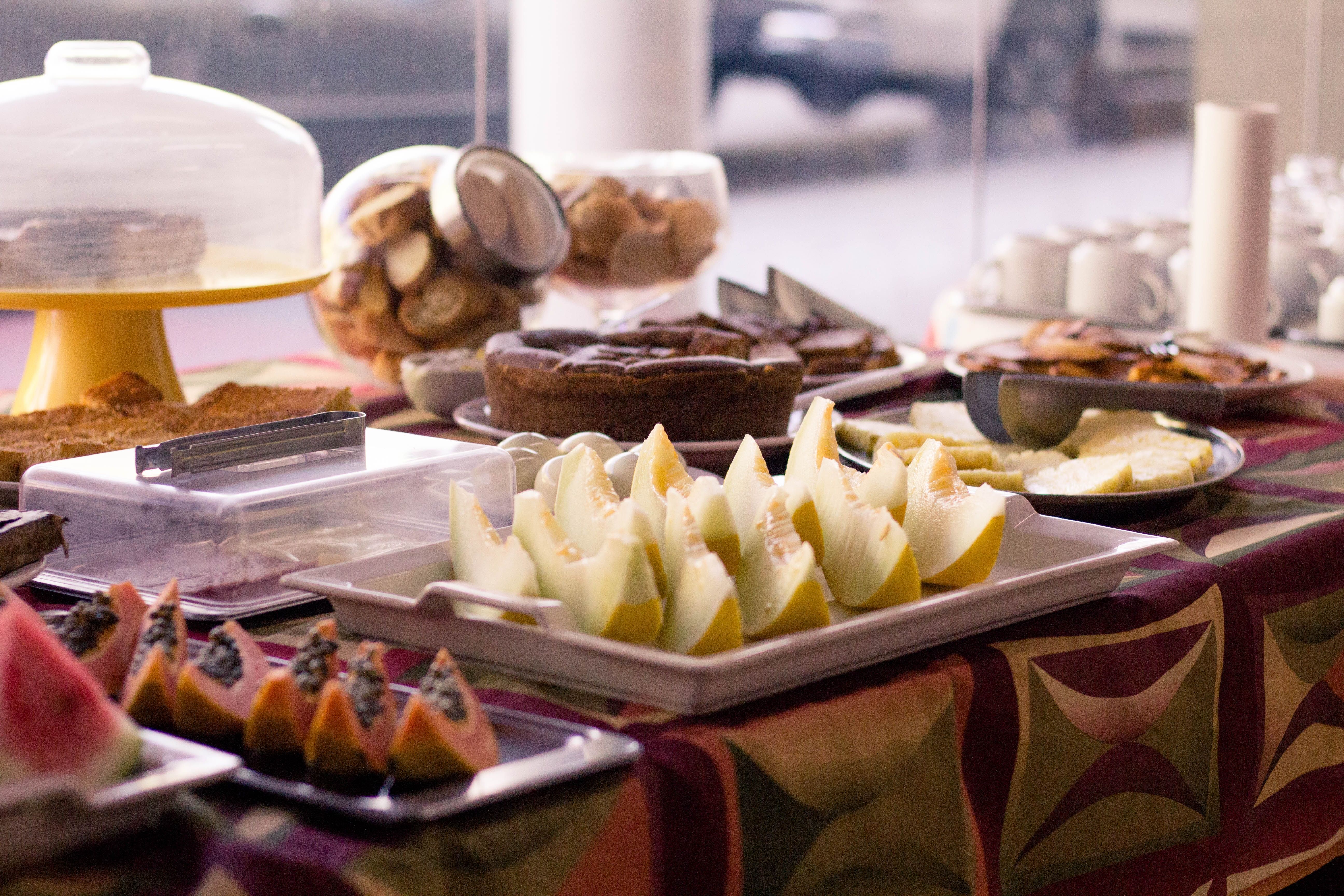 Picture of breakfast buffet
A family-friendly hotel with beachfront access, Confidante Miami Beach, part of Hyatt Hotels, is working hard to ensure you can enjoy some time in the sun this winter.
A kid-friendly buffet and on-site childcare options help little adventurers stay active throughout their stay and help distract them when the adults want some time to enjoy the beach on their own.
Additional amenities include a spa, wellness center, fitness center, and outdoor pool, all of which add to the comfort of one of the best Miami Beach resorts for winter.
Private beach access and a full-size mammoth skeleton
Faena Hotel-Resort in South Beach, Miami, Florida, USA
Featuring an urban design with private beach access, the Faena Hotel on Miami Beach keeps things simple and fun, even with a massive mammoth skeleton on display.
The red color throughout the resort can make even a dreary winter's day feel like the middle of summer, perfect for escaping snowbirds. Faena Hotel Miami Beach is located along Mid-Beach, close to the Miami Beach Botanical Garden, Miami Beach Golf Club and Miami City Ballet, offering plenty of off-site entertainment to match on-site convenience.
The highest levels of luxury with historical and modern touches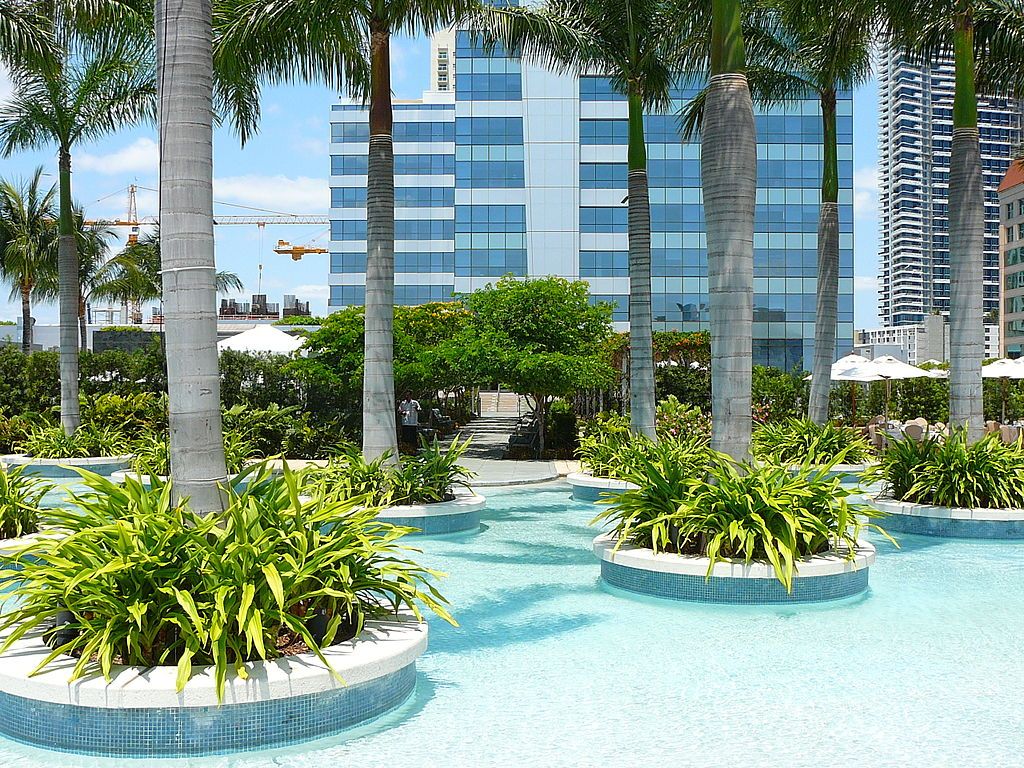 East pool deck at Four Seasons Hotel, Miami Beach, Florida, USA
One of the most luxurious hotels along Miami Beach, the five-star Four Seasons Hotel at the Surf Club is a stylish, modern hotel located directly on the beach. The hotel is a combination of one of Miami Beach's historic buildings and a newer extension to accommodate more guests. This contrast has been uniquely brought together for a truly unique hotel environment.
Within the well-designed walls, guests can enjoy the on-site restaurant, fitness center and spa and wellness centre. And just outside, there's an outdoor pool with a view that reminds guests that even in the dead of winter, the ocean is never far away.
Related: Beyond luxury: The 10 most expensive hotels in Florida for the ultimate splurge
Budget-friendly rooms with upscale ocean views
Pelican Hotel, Miami Beach, Florida, USA
Starting at around $150 per night (depending on the day of the week and season), the Pelican Hotel is one of the most affordable hotels in Miami, especially among hotels on the beach. Despite the budget-friendly price, guests consistently praise Hotel Pelican for its hospitality, location and charming design.
The hotel is located directly on the beach, making it easy for guests to keep busy cycling, diving and even golfing just steps from the hotel itself. The on-site restaurant and bar offer an exceptional experience, proving that this affordable Miami Beach hotel is still one of the best beach hotels you can book in Miami this winter.
Historic structure with modern rooms and panoramic ocean views
The Ritz-Carlton, Miami Beach, Florida, USA
There's no bad time of year to stay at the Ritz-Carlton on South Beach, but the beach views from the wall-to-wall windows and the hotel's clean, modern lines seem a little more stunning in the winter.
While all amenities throughout the hotel are new and modern, the building itself is part of historic Miami and has inspired much of the hotel's current design. Guests can enjoy the ocean from the adjacent beachfront or from the outdoor swimming pool. Afterwards, a snack at the restaurant is sure to end a night at this beautiful beachfront hotel in Miami on a high note.