Renovation of the Rosenbaum Health Sciences Building to bring the Advanced Simulation Center to Michigan State University-Meridian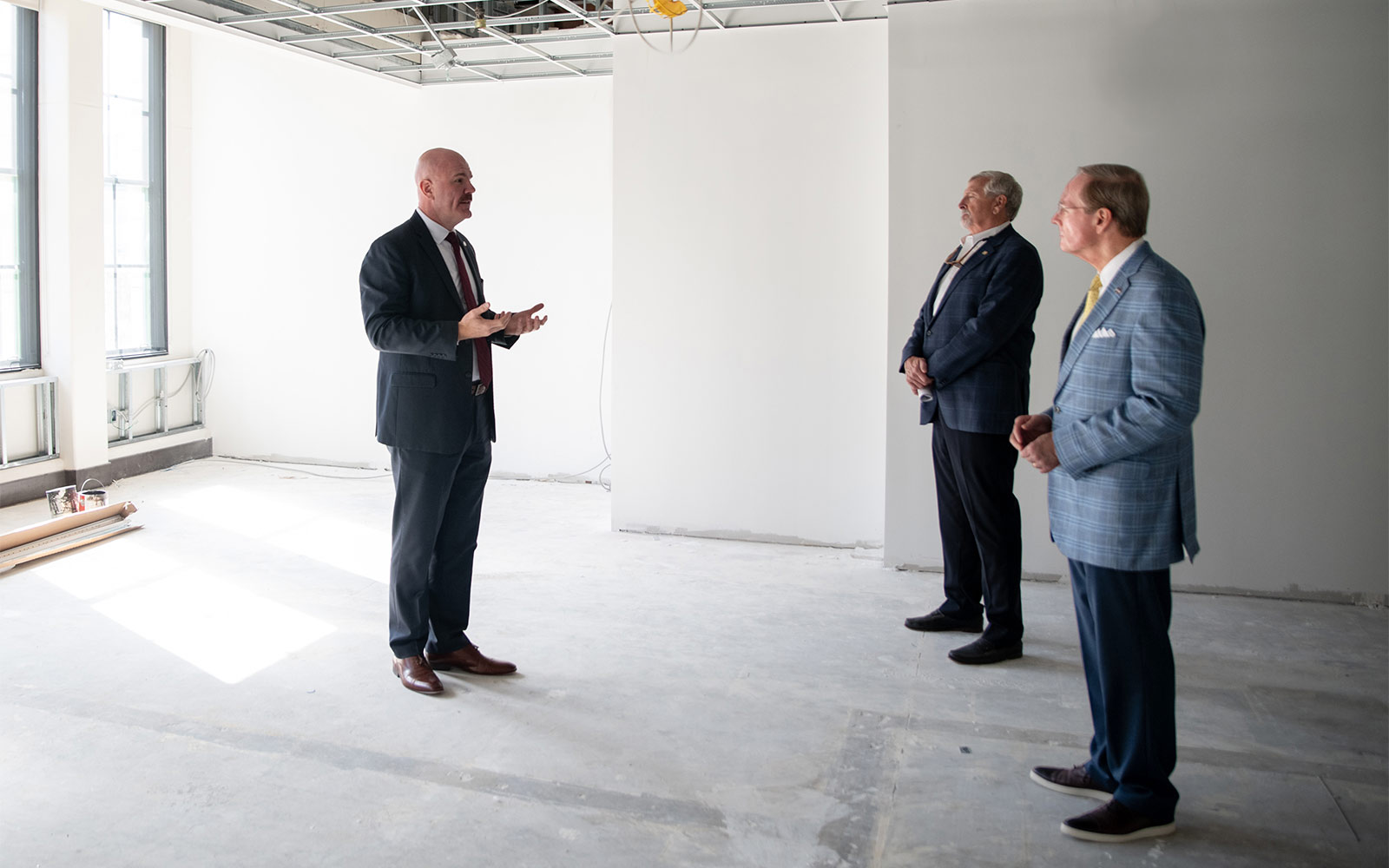 Contact: Harriet Laird
MERIDIAN, Miss. – Mississippi State President Mark E. Keenum today (November 8) visited the Michigan State University-Meridian Riley campus to observe the current renovation of the I.A. Rosenbaum Health Sciences Building and celebrate its transformation.
The Rosenbaum facility — housed in the historic Kress and Company store in downtown Meridian — will house one of the most advanced career simulation centers in the state. It will provide an integrated learning environment for students with diverse academic backgrounds to train the team and work together to improve health outcomes for patients.
"We want to be a model for the state of Mississippi in preparing students to meet critical rural health care needs throughout our state," Keenum said. "These renovations will help us meet the nursing accreditation requirements of Mississippi's institutions of higher education and significantly enhance the educational opportunities for our physician assistant students. I am thrilled Thank you for the efforts this campus team is making to achieve these goals and more as our health sciences portfolio continues to grow.
A new member of this team is Alaina Herrington who recently joined MSU-Meridian after leading the Simulation Center at the University of Mississippi Medical Center to its accreditation. Herrington has a detailed state, regional, and national history in the simulation field. A Doctor of Nursing Practice, Herrington founded the Mississippi Simulation Training Academy at UMMC and holds numerous national licenses and certifications. She is also a Fellow of the American Academy of Nursing – the highest honor in the field – and is a 2022 UMMC College of Nursing graduate.
"The simulation center will include the entire third floor of the building," said Terry Del Cruz, associate vice president and campus leader for MSU-Meridian. "While we are in the first phase of renovation now, once this wonderful facility is complete, it will help us address critical needs in the East Mississippi region of the state to address health disparities, access to quality health care, and improve livelihoods."
A $4 million gift from the Riley Foundation of Meridian, and a $1.06 million grant from AccelerateMS' Nursing and Allied Health Grant Program, funds a $6 million renovation project that includes the addition of a nursing skills lab, a team-based learning classroom, a PA skills lab and a lounge Students, breakout area and new offices.
Along with its Master of Science in Physician Assistant Studies and Master of Science in Nursing licensure programs, MSU-Meridian this fall offered a Doctor of Psychology in Interprofessional Health Service Psychology with three concentration offerings – clinical, counseling, and school psychology. This joins existing master's programs and specialized educational programs in the field of counseling.
Seven faculty members have been added to the 12-month accelerated nursing program in recent months, including Mary Stewart as dean and faculty members Kayla Carr, Katherine Rigdon, Matthew Byrd, LaDarrell Watkins, Alaina Herrington, and Cindy Luther.
For more information about Michigan State University-Meridian, visit www.meridian.msstate.edu.
Mississippi State University takes care of what matters. Learn more at www.msstate.edu.