Remember the Jones Building in Central State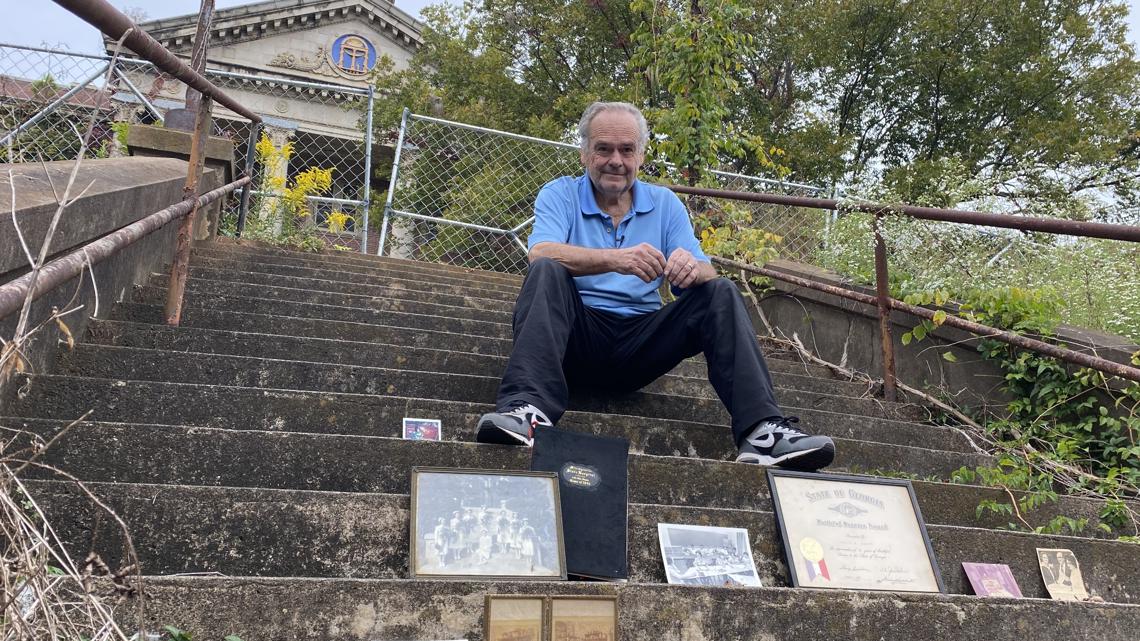 MILLEDGEVILLE, Ga. – The green building once housed thousands of patients on the Central State Hospital campus, which is now falling apart.
The other site slated for demolition is the Jones Building. This is the second of three sets to be demolished, according to Gov. Brian Kemp's executive order.
One Milledgeville man says the campus and Jones Building helped build his family's history.
However, the wind in the tall grass and the birds are the only sounds coming from the Jones building these days.
But you could hear children crying here once.
"I was born right there in the hospital," Marshall Perry said.
He has lived in a house just a two-minute walk from campus his entire life.
The Jones Building, named after the fifth superintendent of Central State Hospitals, Dr. Loderick Jones, opened in 1929.
Marshall Perry says it was the only hospital in the area until 1957 when Baldwin County Hospital was built. Therefore, before that, it would be very likely that people would be born there.
"The mental, the physical — it's all attended to here in the Jones Building," he said.
It's also where he built the Perry family.
"My grandfather worked here as an attendant and also as a nurse's aide where he was involved in transporting patients from Midstate to their home county, as well as bringing patients from Atlanta to Milledgeville," Perry explains. "He was unfortunately killed in an automobile accident in 1921 just outside of state territory. He was only a couple of yards away from returning to campus from the hospital.
However, Perry says his grandmother didn't let that stop her family from contributing to the hospital.
"My grandmother ran what was called the Smithberry Hotel," he explained. "She housed relatives of patients who were in the Jones building."
His mother, Julia Perry, had a history with the hospital as well.
"Her real job here was as a nurse for 35 years," Berry said.
His mother trained in the Jones Building and graduated from nursing school there, and saw up to 250 patients a day.
"I've helped people in Hardwick, Baldwin County, Scottsboro, Coopers, Meriwether," he said. "I would come down and she would take me to different floors."
Perry followed in their footsteps.
"I was able to get a job, and I was fortunate enough to be in it and work for 32 years," he said.
After five decades, the Jones Building closed in 1977, too old for modern equipment. It moved its operations to the newer Culver Kidd building and the Jones Building collapsed.
"It's in very bad shape," Perry said. "There became some people who didn't want to focus so much on the hospital. They felt like they could serve other areas. Eventually that would have to be more every year. They closed a few buildings to start. Then it increased to a moderate extent, which led to Complete closure (of the university campus).
In July, Kemp signed an order to demolish several buildings in Central State, including the Jones, Walker and Green buildings.
"A place that cares about people's illness and well-being — it has served me as a life purpose. We have lost a huge part of our history," Perry said.
As well as his own history.
"I feel like a part of me is disappearing," Perry said.
On Monday, we spoke with the state Department of Behavioral Health and Developmental Disabilities, which owns the buildings.
They said their next step is to talk to the Georgia Department of Community Affairs' Historic Preservation Division, as required by the governor's order.
The Department of Historic Preservation can make a recommendation on whether the building should be demolished, but the decision is still up to the agency that owns it.
The Green Building space was repurposed in the 1990s as a launching pad for Baldwin County Schools, Perry says.
"I think something like this could be applied to this building," Perry said.
He says he has already written to the state about it.
If you would like to learn more about the buildings and join the community surrounding campus, the Friends of Central State Hospital Facebook group has nearly 12,000 followers.