Mining basin, heritage as a resource.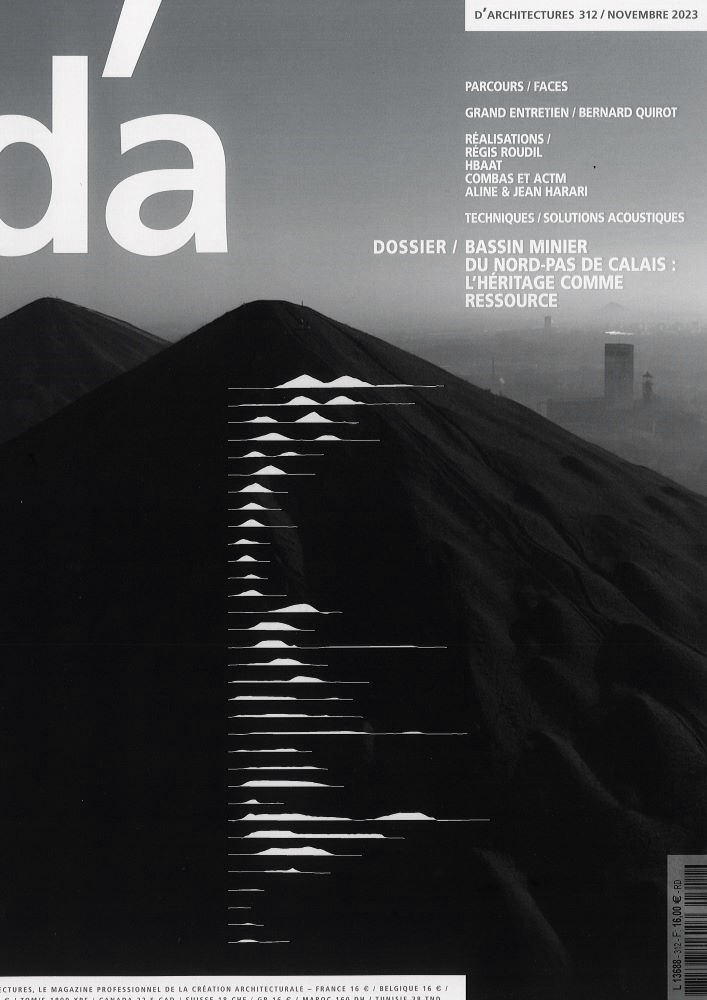 This roundtable is organized on the occasion of the publication of the file "Mining Basin, Heritage as Resource" in the journal D'Architectures in November 2023, produced in partnership with the IPRAUS/AUSser laboratory (UMR 3329 CNRS) of Ensa Paris-Belleville and the Mining Basin Mission.
Coordinated by Emmanuel Kyle (Da), Catherine Bertram and Virginie Lapierre (Mining Basin Mission), Lucas Monsingon and Catherine Seiler (Philippe Proust Architecture Workshop), this file concludes the IPRAUS/AUSser research program "Mining Basin, area for projects", funded by the Mécénat Deposit Fund (2018-2023 ) led by Beatrice Mariol, Philippe Proust and Lucas Monsingon, the highlight of which was a study day held in May 2022 at the Cité de l'architecture et du patrimoine.
The aim of this roundtable is primarily to introduce to a wider audience the richness of this portfolio (mining basin, heritage as resource), by highlighting the important contributions of its contributions(1), but also equally important. To open future thinking by inviting other areas of research and work whose topics and issues are complementary and convergent.
(1) The file reviews the transformations taking place in the northern Pas-de-Calais mining basin through the contributions of Jean-François Caron, Francesco Bandarin, Raffaele Alessandri, Jean-Louis Subilio, Christine Leconte, Philippe Proust, Beatrice Mariol, Véronique Roger Lacan, Marie-Hélène Contal… projects Architecture, landscape and urban planning from Michel Desvignes, Hérault Arnaud Architects, Savart-Baysig, Thibault Architect-Urban Planners, Vis-à-Vis, Philippe Proust Architect-Workshop, Sébastien Niemann Architect SAS. The file reviews the transformations taking place in the Nord-Pas-de-Calais mining basin through the contributions of Jean-François Caron, Francesco Bandarin, Raphael Alessandri, Jean-Louis Sobellio, Christine Leconte, Philippe Proust, and Beatrice. Mariol, Véronique Roger Lacan, Marie-Hélène Contal… Architecture, landscape and urban planning projects from the agencies Michel Desvins, Hérault Arnault Architects, Savart-Baysig, Thibault Babald Architects-Urban Planners, FACE, Philippe Proust Architectural Workshop, Sébastien Niemann Architect SAS. Aerial photo by Dr. Philippe Frutier
Interim programme
6:00 pm: Welcome from François Broat, Director of ENSA Paris Belleville
6:10 PM Introduction by Philippe Proust, Professor at ENSA Paris Belleville, IPRAUS/AUSser researcher, and Emmanuel Kyle, D'A Editor-in-Chief: Returning to the research programme, Chaillot Day and the report published in D'A
18:20 Round table containing single file and groups: Mining basin issues, research and teaching
Rafael Alessandri, Mining Basin Mission: The project area is a haunted heritage site
Lucas Monsingon, PhD student at ENSA Versailles: From heaviness to living soil
Beatrice Mariol (subject to detention) and Melusine Banier, PhD student at ENSA Lille: AMI Chair for Post-Mining and Research: the Collaborative practices addressing residential energy renewal challenges
6:40 PM Second round table: Heritage, Landscape and Territory / Based on a mining basin case study, putting it in perspective and extending it to current issues
Introduction by André Lortie, Professor at ENSA Paris Belleville, Director of IPRAUS/AUSser
Georges-Henri Laffont, ENSA Saint-Etienne: A comprehensive read of post-mining areas
Valérie Foucher-Duvois and Vanessa Fernandez, ENSA Paris Belleville: From blue-collar cities to garden cities, the housing model needs to be reconsidered
Patrick Henry, Professor at ENSA Paris Belleville, IPRAUS/AUSser researcher, DSA Urban Project Director: From traces to traces. For urban land planning
7:00 PM: Questions/exchanges with the room
7:20pm Friendly drink