How to Make a Living Wall — Create a Vertical Garden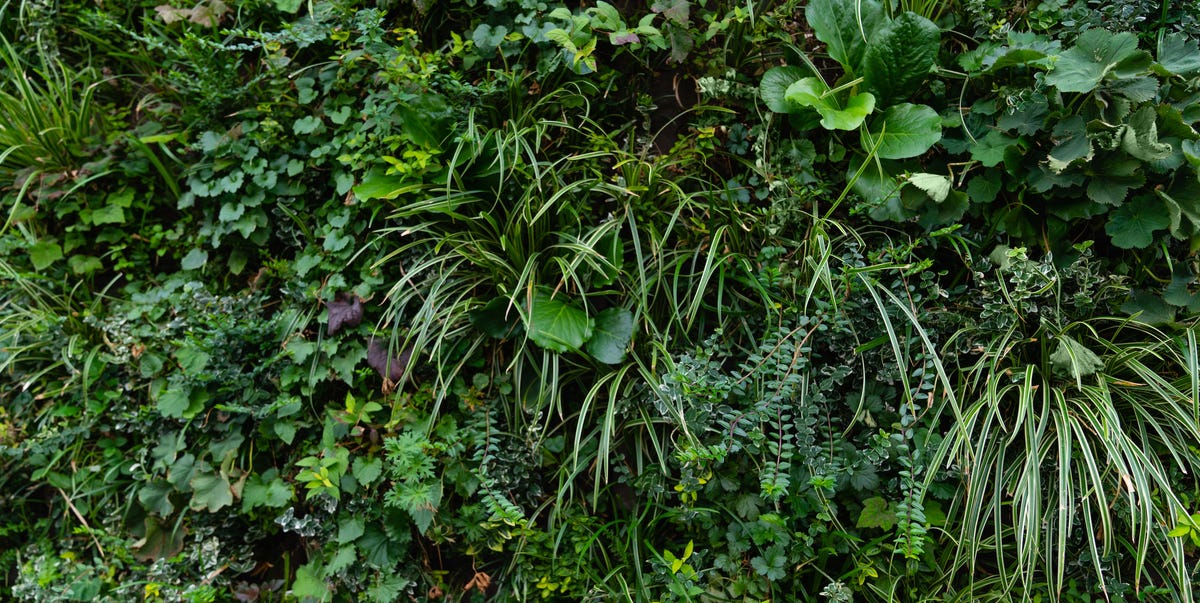 Living walls — also known as vertical gardens or plant walls — are panels of plants that thrive when grown vertically. Living walls are a decorative design solution for small spaces, and are a great way to add greenery to indoor or outdoor areas.
Creating a living wall requires careful planning and study. You will want to look into Lighting conditions, Water requirements And Maintenance needs Of the plants of your choice.
Jenny Davis, Head of Marketing at Forest Garden, explains why they are so popular: "Vertical gardens are a great trick for bringing greenery to external walls and hiding unsightly features. A large area of ​​brickwork can quickly be filled with color and life. Living walls are growing in popularity as homeowners get creative Getting the most out of every inch of their garden this summer.
How to make a living wall: 5 steps to follow
1. Select your system
You decide whether you have the space for a multi-pocketed hanging grower or would prefer to make a statement with grow bags. Other options include Modular panels, Trellises, Farmers Or specially designed Living wall systems. Make sure the frame is sturdy and able to support the weight of the plants and growing medium.
"Multi-pocketed grow bags are the perfect, affordable first step for novice gardeners. They're easy to hang and the designated spaces to place your plants make styling a breeze," says Hannah Roche, Second Hand Trends Expert at Gumtree.
"If you are looking for a larger living wall, consider a modular planter system that includes irrigation. This is a great option if you are short on time as the water and nutrients will be delivered automatically. However, they are the most expensive option, so research your preferred options ahead of time to cut down Costs."
2. Look for sunlight
Many plant species will tolerate high life in a green wall. Whether you choose cascading vines or air-purifying plants like snake plants, check the amount of sunlight your wall gets first. You'll also need to choose plants suitable for vertical growth, so be sure to consider factors including the plant's water requirements, growth habits and compatibility with the chosen framework.
"Living walls will have a hard time thriving on shady, north-facing walls, so choose a sunny or partially shaded spot that's easy to access," adds Hannah. "And make sure the wall can support the weight you're attaching."
3. Choose plants that work well together
Herbs, the fruit, Herbs And Fern Works well on live walls. "The best plants for a vertical wall planter will depend largely on your specific location," explains Sam. "The exposure to sun, rain, and time you have available for watering, will determine which plants are most suitable."
"Succulents always grow well in small containers and are a great choice for storage and display on the shelves of your wall planter. Herbs like basil, mint and parsley can also grow well in vertical planters. Ferns look stunning hanging down a wall. Their feathery stems give an attractive appearance, Especially in a shady place."
4. Determine your growing medium
Growing medium is the material in which plants will be rooted. It should be lightweight, well-drained and nutrient-rich. Options include soilless mixes, coco coir, or specialty growing media designed for vertical gardens. Make sure the medium is suitable for your chosen plants. It pays to do your research to avoid a sad-looking living wall.
5. Irrigation methods
Watering is one of the main points to care for the living wall. If you're not using a complete irrigation system, make sure you can water all your plants easily and evenly. Try not to overwater it either.
Options include:
Manual watering by hand
Automated irrigation with overflow connected to drainage
Recycling irrigation tanks
Watering is done manually from a mobile water tank
Top tip: Check your living wall regularly for signs of pests, disease, or nutrient deficiencies. Address any problems immediately to prevent them from spreading. It is important to monitor the growth of plants and adjust the spacing between them if necessary.