Conference session of the Possible Horizons Workshop: Pierre-Charles Marais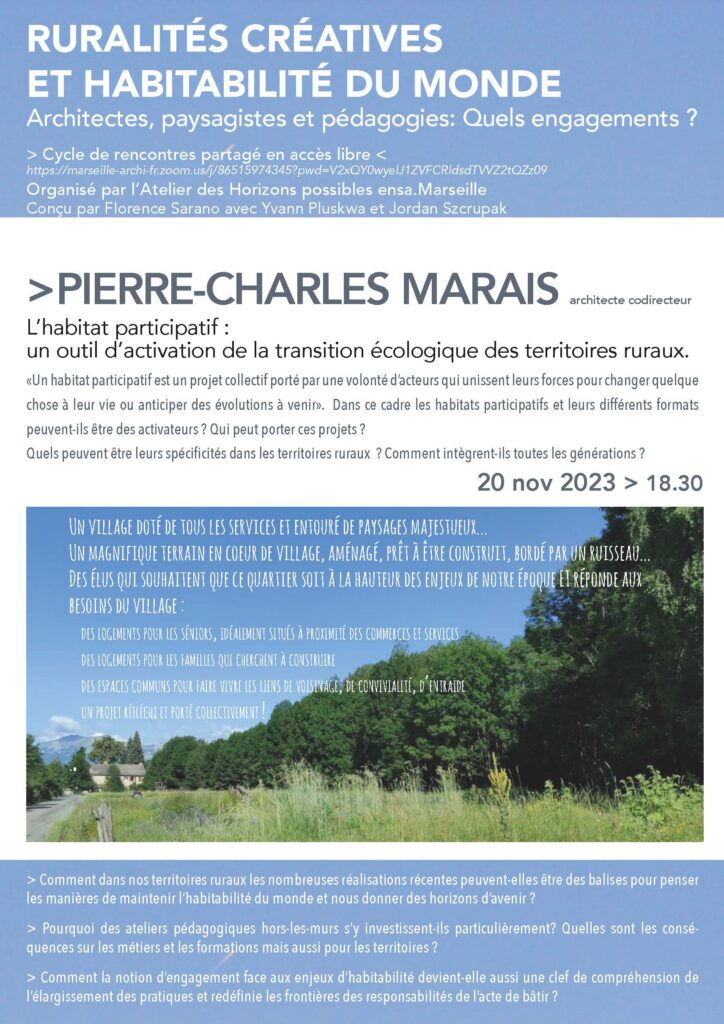 Within the conference sessionCreative and habitable rural areas of the world Architects, landscapers and educators: what are the obligations? Organized by Atelier des Horizons Possibles ensa.m, cDesigned by Florence Sarano with Ivan Pliscua and Jordan Shkruback, Pierre Charles Marais, An architect accompanies renovation projects, He will give a lecture on Monday, November 20, 2023 at 6:30 pm on "Participatory housing: a tool for activating environmental transformation in rural areas."
"A village equipped with all services and surrounded by stunning natural scenery…
A wonderful piece of land in the heart of the village, landscaped, ready to build, bordered by a creek… Elected officials who want this neighborhood to meet the challenges of our time and meet the needs of the village:
– Residence for seniors, ideally located near shops and services
– Housing for families wishing to build
– Shared spaces to enhance neighborhood relations and coexistence, – Mutual assistance
– An environmental project thought up and implemented collectively!
"Participatory housing is a collective project driven by the desire of actors who join forces to change something in their lives or anticipate future developments." In this context, can participatory habitat and its various forms be activating factors? Who can implement these projects?
What are their peculiarities in rural areas? How do they integrate all generations?
https://marseille-archi-fr.zoom.us/j/86515974345?pwd=V2xQY0wyelJ1ZVFCRldsdTVVZ2tQZz09#success
Creative and habitable rural areas of the world
Architects, landscapers, research and teaching: what are the obligations?
How can the many recent achievements in our rural areas serve as benchmarks for thinking about ways to keep the world habitable and give us prospects for the future?
Why are off-site educational workshops particularly involved in this? What are the consequences for professions and training but also for regions?
How does the concept of commitment to habitability issues also become key to understanding the expansion of practices and the redefinition of the boundaries of responsibilities for the construction process?
ZOOM LINKS Pierre-Charles Marais Conference > Welcome 6:15 PM > Start 6:30 PM
for more information : florence.sarano@marseille.archi.fr