At first glance, billionaire Maja Hoffmann's private museum in Arles looked like another vanity project. Then it blew my mind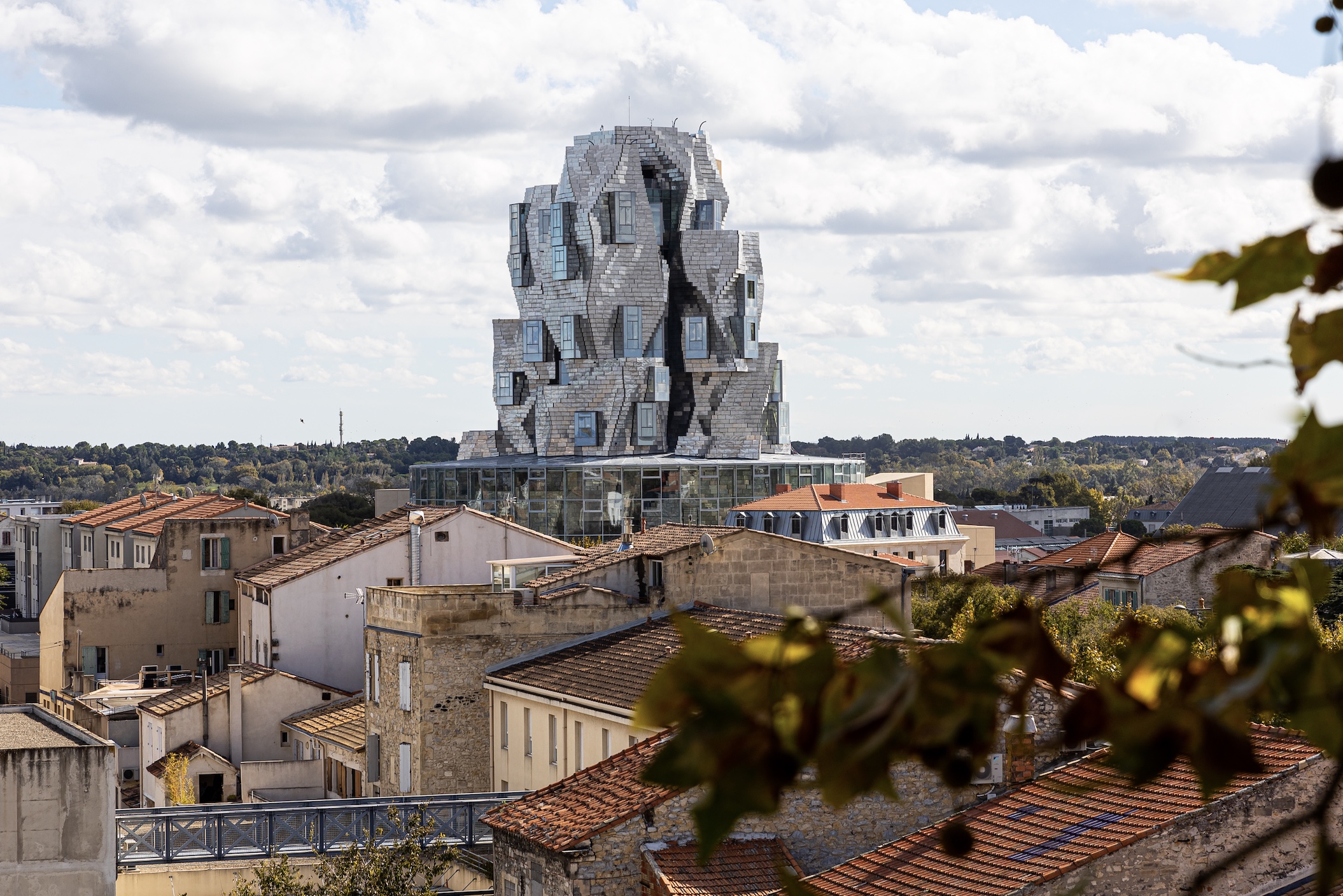 Frank Gehry's steel tower sparkled in the hot sun as I approached Maja Hoffmann's private museum in Arles, France, two weeks ago. It looked like a mini Guggenheim Museum Bilbao. Was this another ego trip by a billionaire?
I didn't need to worry.
Colorful 3D-printed moss tiles, insulation made from discarded sunflower stems, a wall of 4,600 crystalline salt panels, a giant double slide by Carsten Höller, a gourmet lunch in a restaurant designed by Rirkrit Tiravanija, and the largest Diane Arbus retrospective – These are some of the things that amazed me about LUMA Arles.
The 25-acre campus created by the Swiss philanthropist is the newest attraction in the city known for its Roman ruins and Van Gogh paintings. Located on the grounds of Parc des Ateliers, a 19th-century steam locomotive construction and repair site, it comprises eight buildings where art, science, design and sustainable experimentation coexist on an unprecedented scale. (François Pinault's art-filled palaces in Venice seem like trinkets by comparison.)
World-class exhibitions by international artists rotate seasonally. The latest installment, which opens on July 1, includes a program dedicated to the late film director Agnès Varda (1929-2019) along with new commissions by contemporary artists Rachel Rose, Thester Gates, and Shahriar Neshat.
Several former warehouses have been renovated by Selldorf Architects for use as exhibition and performance spaces. The latest arrival is an aircraft hangar-sized home for Atelier LUMA, the maverick innovation laboratory. It was designed by Brussels-based BC Architects & Studies and London-based Assemble, which demolished the old structure and then recycled it to build a new version. It's surrounded by four restaurants, a ski area, and a garden miraculously planted in concrete (with pond, frogs and everything) by landscape architect Bas Smits.
I was skeptical about that. Many museums and private institutions are frivolous projects to demonstrate the voracious consumption of art by the wealthy. The Hoffmann-Owery clan, which derives its wealth from Roche, the Basel-based pharmaceutical giant, is one of the richest families in the world.
But I was on vacation in the nearby town of Roussillon with my husband and children, and I was curious to see what the $500 million arts campus looked like.
"It's very unique," ​​said Simon de Pury, an auctioneer, tastemaker and fellow Artnet columnist, who has known Hoffman for 35 years. "A lot of major collectors build these museums around their collections, while their museum is like a laboratory where artists, scholars, and people from different walks of life come together and exchange ideas. Projects come out of it."
From free admission to galleries and gardens to rotating residencies by chefs, artists and designers, the campus is brimming with models of experimentation, generosity and ambition that are rooted in creativity but extend far beyond the art world. For example, Atelier LUMA now advises major companies and even foreign governments on sustainable practices in construction and design using agricultural waste.
A twisted tower glows in the Provence sun, disproportionately tall and futuristic amid the dusty red brick rooftops. The 10-storey building designed by Gehry rises from a circular glass pavilion inspired by the Roman amphitheater in central Arles.
The tower is the brightest star in the constellation of Hoffmann's activities – a beacon of her philanthropy that shines far beyond Arles. She is president of the Swiss Institute in New York and the Kunsthal Zurich in Switzerland. She sits on the boards of the Tate and Serpentine Gallery in London, the New Museum in New York, as well as the Center for Curatorial Studies at Bard College in Annandale-on-Hudson, New York. Her LUMA Foundation teamed up with Art Basel last year to co-found Arcual, a blockchain company aimed at helping artists and galleries capitalize on high resale prices. Then, in Arles, she takes over the presidency of the Van Gogh Foundation, officially established in 2008 by her father Luc Hoffmann, a pioneer of wetland conservation.
Hoffmann's fortune can be traced to Fritz Hoffmann-La Roche, who founded his pharmaceutical company in Basel in 1896, producing Cerulean, an orange-flavored cough syrup. Today, Roche is a global giant with a market capitalization of US$249.2 billion and annual sales of CHF 63.3 billion in 2022. Its main products include Valium and Tamiflu.
Hoffman-Owerri's heirs owned 75.1% of the company's shares as of December 31, 2022, according to Bloomberg. This year, an unidentified family member sold a 2.35% stake, Bloomberg reported, citing unconfirmed speculation that Maja Hoffman, who has a net worth of $5.96 billion, is ranked 416th on the Bloomberg Billionaires Index.
Giving back is a family tradition. Hoffmann's grandmother launched the Emanuel Hoffmann Foundation in 1933, named after her husband who died young in a car accident. Works from their collection are on permanent loan to the Kunstmuseum Basel.
"There is a commitment in the family to supporting culture," De Pury said. "It's ingrained in her."
Hoffmann, 67, founded the LUMA Foundation, named after her children Lukas and Marina, in 2004 in Zurich. It chose Arles for expansion in part because it grew up in the surrounding Camargue region, known for its salt production. Her father, Luc Hoffmann, left the family pharmaceutical company to work in wetland conservation, establishing a research station and France's first national park. He is credited with its current population of great flamingos and white wild horses.
"The conservation gene she inherited from her father," said writer Linda Yablonsky, who knows Hoffman. "She wanted to keep it her own way."
This took 15 years and required significant local political support. For many years the communist mayor of Arles was in her corner. When Gehry Tower finally opened in 2021 after delays due to the pandemic, it was greeted with glowing speeches by local and regional political leaders.
"It's not just about writing a check," De Pury said. "It's very hard to pull back what you pulled out."
Along the way, Hoffmann also acquired hotels and restaurants in Arles, causing some locals to dub its growing influence as "Majabouli." Condé Nast Traveler narrated. One critic, François Hippel, then director of Rencontres d'Arles, Arles Hoffmann's beloved annual photography festival for years, resigned in protest.
"It is to my great sadness that all the public authority employees who were in charge at the time kind of gave up because they were so impressed that there was such generosity and they didn't know how to deal with it," Heppell said. The New York Times In 2018. "He's kind of a disabled person."
Rencontres d'Arles, which opens its next edition on July 3, now has a permanent space at LUMA Arles. The two institutions are often in partnership, the latest example being the current exhibition, "Diane Arbus: Constellation."
With 454 black-and-white images, this is the largest survey of Arbus's work to date. After her death in 1971, the only person allowed to make prints from the artist's negatives was her student, Neil Selkirk. For more than 30 years, Selkirk kept a single printer's proof for every picture he printed for the Arbus Estate. In 2011, he sold his collection to LUMA, which will present it as an immersive installation this summer. Mounted on rebar and reflected on mirrored walls, the works draw you into the artist's mind, echoing and manipulating each other, chaotic and perfectly framed at once.
Another exhibition, "Carrie Mae Weems: The Shape of Things," expands on an exhibition the artist held at the Park Avenue Armory two years ago. Both were coordinated by Tom Eccles of the Bard Center for Organizational Studies. The work begins with a stunning installation: a child-sized piano and wooden chairs placed on a small stage against a sprawling backdrop of blue skies with white clouds and the words "Remember to Dream." Large speakers are scattered throughout the space. Black and white film footage is displayed on large curved screens (cyclorama). The exhibition coincides with another Weems survey, which has just opened at London's Barbican.
The stunning new home of Atelier LUMA displays models and prototypes of various household and industrial objects created on site from all types of bio-sourced waste in the surrounding Camargue region. Everything seems to be reusable: a garden outside the building is fertilized using human waste.
Many new products have been used in Gehry Tower. Moss-based tiles line the bathroom walls. Local dyes and sunflower stems were used to weave the fabric at Drum Café designed by Tiravanija. The famous Camargue salt crystallizes in the form of shiny wall panels in the elevator lobbies on seven floors. (The latest experiments aim to use the antibacterial properties of salt in the manufacture of door handles.)
"We create industries here," said Tony Guerrero, my mentor and old acquaintance in New York, who heads special projects, including feature film production, at LUMA Arles.
With all kinds of key people in the art world now passing through Arles, Hofmann makes use of her fleet of hotels in the city to make sure they have suitable accommodation – and she has hired artists to turn them into extensions of her museum. For example, Jorge Pardo was given carte blanche for Larlatan. India Mahdavi, who recently completed the renovation of the Villa Medici in Rome, has redesigned Le Cloître. Then there's Le Nord-Pinus, famous for those 1973 Helmut Newton photographs of a naked Charlotte Rampling.
"Each one is a work of art," De Pury said.
Prices are surprisingly reasonable. A night at Le Cloître in July, the peak tourist season, costs €214, compared with up to €2,700 at Villa La Coste, part of an art-filled estate in the area.
"It's not about a privileged group of insiders," de Pury said of Hoffman's activities. "She's interested in making art and culture accessible to the general public. That's what's unique about this."
Follow Artnet News on Facebook:

Do you want to stay at the forefront of the art world? Sign up for our newsletter to get breaking news, interesting interviews, and critical observations that move the conversation forward.