143 apartments + retail planned at 317 S. La Brea Avenue in Inglewood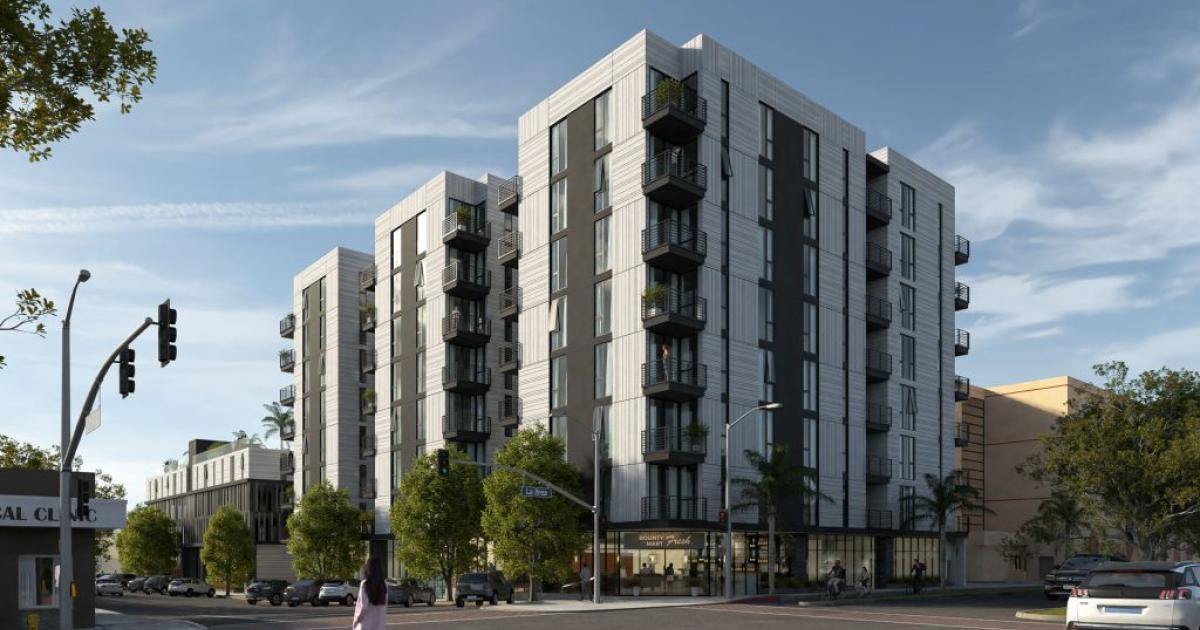 An L-shaped property just south of Manchester Avenue in Englewood is ripe for redevelopment with housing and commercial space, according to an item considered at a recent meeting of the city's Planning Commission.
The proposed project from Los Angeles-based Uncommon, slated for a site adjacent to Grevillea Art Park at 317 S. La Brea Avenue, is improved with two commercial buildings and a surface parking lot. Plans call for removing those uses, paving the way for new four- and eight-story buildings housing a total of 143 studio, one-, two- and three-bedroom apartments with more than 18,000 square feet of commercial and parking uses. For 224 vehicles.
Required project entitlements include density bonuses that allow for exemptions from certain zoning rules. In exchange, the city of Englewood will require 18 new rental apartments to be designated as affordable housing.
JZA Architecture is designing 317 La Brea, which will also include two courtyards, a rooftop pool deck, and several indoor entertainment rooms. Planned finishes include plasterboard and fiber cement.
"The project seeks to connect important nodes within the fabric of downtown Inglewood, including Inglewood High School and Grevillea Arts Park to the west, Inglewood Transit Center and Market Street to the east, and La Brea Street, Inglewood's main thoroughfare, to the north and 'south,'" it reads. A narrative from JZA's website, which also cites a groundbreaking date for the project as August 2024.
Construction, when it occurs, will be conducted in two phases, starting with the smaller, four-story, 31-unit building at 100 E. Nutwood St. to the west, followed by the larger, eight-story, 112-unit building facing Los Angeles. Brea to the east.
The project site is just a few blocks south of the intersection of La Brea and Florence Avenue, where two projects have brought nearly 400 apartments to sites within walking distance of the K Line. The Frank Gehry-designed Los Angeles Youth Orchestra House also debuted nearby In a converted bank building.
Uncommon is preparing plans for a number of similar mixed-use projects throughout Los Angeles County, including two buildings on Beverly Boulevard in Beverly Grove and Fairfax, and another on Sunset Boulevard in Hollywood.
Follow us on social media:
Twitter / Facebook / LinkedIn / Threads / Instagram